Phuket Beaches
Beaches Near Layan Gardens Luxury Apartments
We have not included above every beach in Phuket. These are the beaches located near to our fabulous villas and apartments available for sale or rent. Layan Gardens and Luna Phuket really are located on the best part of the island. Enjoy,relax and live the lifestyle you deserve!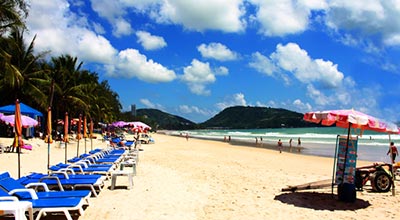 Patong Beach
Patong is the most famous – some would say infamous – beach resort on the paradise island of Phuket. With its wide variety of activities and nightlife  Patong is an ideal place to dine, party and play. By day you have a fabulous beach and views and at night the town becomes 'Party Central'. Nightlife includes literally hundreds of lounge bars, beer bars, cabarets of course fabulous dance clubs and discothèques. The nightlife and ambience is centered around Bangla Road, where you will find entertainment of every type, however if you are after some quality cocktails and a laid back atmosphere there are many quiet parts of town too. Also Patong caters for the overnight stay, with many tourist/local guesthouses and hotels from 300 baht per night.
Kamala Beach
Kamala beach is located just 16 minutes away from Layan Gardens and Layan beach. The northern end of this unspoiled bay features a sandy clean beach, shaded by Casuarina trees and his ideal for a quiet relaxing and pleasant location, even though it does have jet skis on parts of the beach. You can swim and experience good snorkeling in crystal clear water on its Northern end. The middle part of Kamala bay is dominated by a village with beach restaurants and small hotels dotted along the beach. You will find an array of shops and beers bars in Kamala on the coastal road. Also the famous PHUKET FANTASEA, A theme park that presents a nightly 'vegas type' cabaret show.
The market comes to Kamala every Wednesday and Saturday afternoon and gives you the opportunity to mingle with locals and to sample the many local dishes.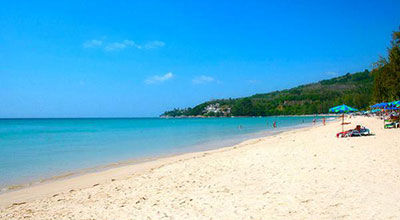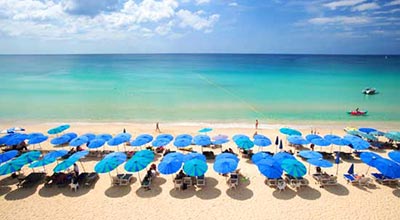 Surin Beach
Surin beach is the favorite beach of many expats living on Phuket and only 8 minutes from Layan Gardens . It's a long, quiet sandy beach with an excellent selection of wonderful seafood restaurants and 'Ibiza type' beach clubs along its perimeter.
There are a number of excellent hotels located in the Surin beach area and if you are not looking for the crazy nightlife for which Patong is famous then you should really consider booking one of the Surin beachs' hotels or one of the nearby Laguna resorts. Surin beach is especially very popular among Scandinavian, British and Russian tourists.
Surin Beach is located on the west coast of Phuket and is located only a few minutes drive north of Kamala Beach or a few minute south from the Phuket Laguna/Layan area. If you are planning to stay at a Phuket hotel or resort in another area of Phuket then we would still like highly recommend that you at least spend one day of your vacation at the amazing Surin beach.
Bang Tao / Laguna / Layan Beach
Bang Tao Beach is the official name for the 7 km long beach which extends from Bang Tao village all the way past Layan Beach. It is absolutely no surprise that the Banyan Tree Hotels group decided on this location to build their resort area in the middle which is now known as 'Laguna Phuket'. Bang Tao/Layan beach is the most beautiful beach on Phuket.
If you are interested in purchasing some luxurious Phuket real estate apartments/villas, then you should definitely consider investing into one of the new Bang Tao/Layan/Laguna beach real estate properties.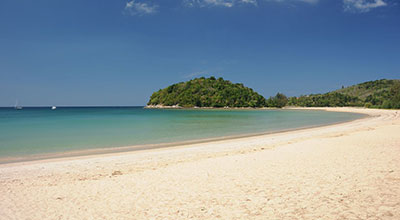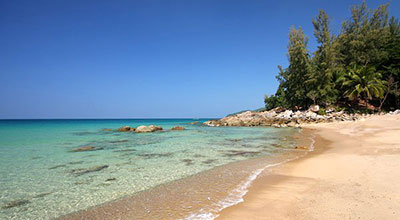 Banana Rock Beach
Banana Rock Beach is located on the popular west coast of Phuket between Nai Thon and Bang Tao beach. If you are planning to visit this great Phuket beach then you should keep an eye out for the Trisara Villas sign. The Banana Rock Beach is located about half a kilometer north of it. The only public transport to this beach is by long tail boat from Bang Tao beach, but it is easy to find by hiring a moped or car.
Nai Thon Beach
Nai Thon beach is considered by most local residents to be one of the prettiest Phuket beaches. Although there has been some development in recent times, the area of Nai Thon beach is considerably less developed than many other Phuket beach and resort areas. There are a number of excellent Phuket beach resorts and hotels which have opened up in the Nai Thon beach area.
If you are staying in the upscale and trendy Phuket Laguna/Layan area then Nai Thon beach is worth a visit.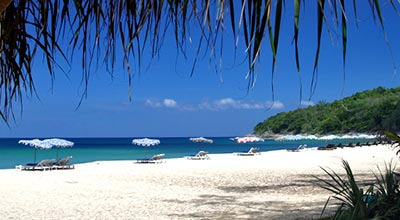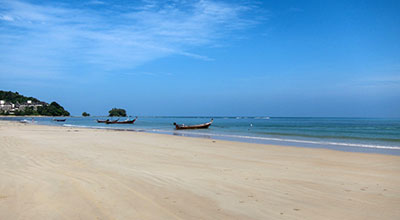 Nai Yang Beach
Nai Yang beach is one of the less well known Phuket beaches as it is located in a somewhat quiet and remote part of Phuket. If you are planning to tour the island then you should definitely spend some time at the Nai Yang beach as it is one of the cleanest and most beautiful beaches on Phuket. Slowly but surely more developers are now planning to develop this area of Phuket and some excellent new hotels and restaurants have opened recently in the Nai Yang beach area as well as various different Phuket real estate projects. The Nai Yang Beach is located right next to the beautiful Sirinath National Park. It is also the closest beach too Phuket international airport.